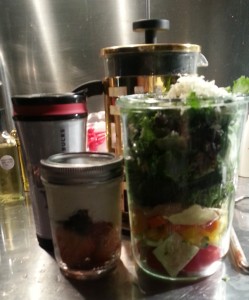 You guys, I don't know what is going on but I'm being really nice to myself lately. I made myself dinner on Monday night (Main: soy-ginger salmon with green beans in a mustard and onion sauce and cilantro infused wild rice. Drink: Chardonnay). It was so delightful and plentiful I had it for lunch yesterday! Then this morning I threw together this little Treat Yo Self Thursday situation.
BREAKFAST
MAIN: Yogurt In a Jar

Fage Greek Goodness
fresh blueberries
fresh blackberries
fresh strawberries

DRINK: Homemade Coffee
LUNCH
MAIN: Salad in Jar

lettuce
broccoli
cucumbers
tomatoes
carrots
yellow peppers
hummus
parmesan cheese
fresh cilantro & parsley

DRINK: Cucumber-Mint Lemonade
DESSERT: Chia Seed Pudding with Roasted apples with caramel drizzle
What should we call me when?